We are the 20 Governors of the sovereign Pueblo nations of New Mexico and Texas, vested in making life better for all our Pueblo people and ensuring that those yet to be born have the same opportunity to experience our customs and traditions just as previous generations have been blessed.
All Pueblo Council of Governors Urges Senate Confirmation of Interior Secretary- Nominee Debra Haaland and Election of a Native Candidate for CD 1 Special Election
ALBUQUERQUE, NM – The All Pueblo Council of Governors (APCG) joins Tribal Nations and organizations from across the country in celebrating Congresswoman Debra Haaland's selection this afternoon as Secretary of the Interior by President-elect Joe Biden.
"The appointment of Deb Haaland, a Pueblo woman with impressive credentials and deep community roots, is long-overdue and incredibly emotional for Pueblo people," said APCG Chairman Wilfred Herrera Jr., "As the leaders of the 20 sovereign Pueblo Nations we respectfully call upon every member of the Senate to confirm Secretary-designate Haaland and usher in a new era in our country's nation-to-nation relationship with Indigenous people."
Last month, the APCG voted to join Tribal Nations throughout the country in supporting Congresswoman Haaland's appointment to lead a department that was established 150 years ago with one of its responsibilities to maintain the federal government's trust obligations to tribal nations. As the first Native American to be appointed as a cabinet secretary in the history of our nation, her appointment demonstrates the incoming administration's commitment to the "Biden-Harris plan for Tribal Nations" and will ensure that the voices of tribal nations are rightfully considered at the highest levels of government.
"Our Pueblo Nations are extremely appreciative and grateful for Congresswoman Haaland's service and leadership during her time in Congress," said APCG Secretary David Toledo, "we believe that the State of New Mexico and Congressional District 1 would best be served by ensuring that another strong Native American is elected to take Congresswoman Haaland's seat."
#####
The All Pueblo Council of Governors Mission is to advocate, foster, protect and encourage the social, cultural, and traditional well-being of our Pueblo Nations. Through our inherent and sovereign rights, we will promote language, health, economic and educational advancement of all Pueblo people. For more information, please visit: https://www.apcg.org/
Contact: Teran Villa, tvilla@indianpueblo.org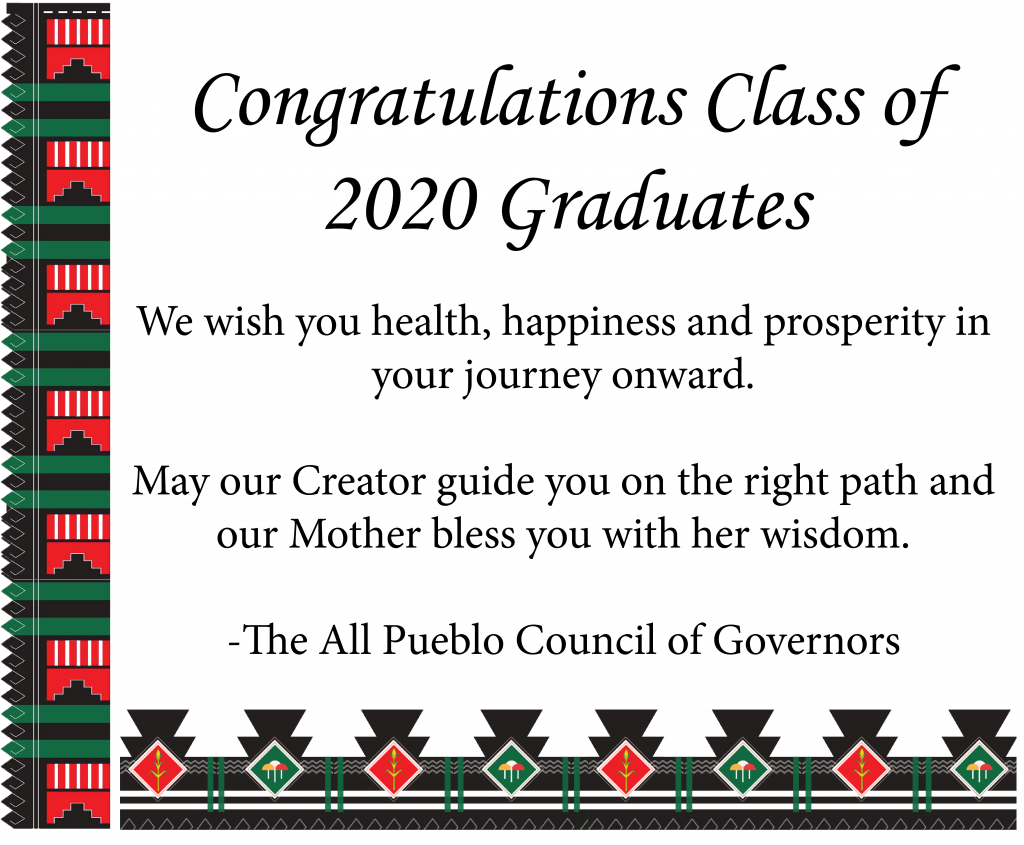 FOR IMMEDIATE RELEASE
July 1, 2020
Contact: Alicia Ortega, APCG@indianpueblo.org
The All Pueblo Council of Governors, representing the 20 sovereign Pueblo Nations of New Mexico and Texas, would like to recognize our outstanding members and families of the class of 2020. We congratulate and sincerely thank you for your leadership, hard work, and persistence in fulfilling a milestone in your educational journey — one that continually contributes to the success of your families, your communities, and our people collectively now and generations into the future.
This year's graduating class is honorably marked by the overcoming of adversity through this unprecedented national crisis. It was foretold that there would be a time where the health and well-being of our communities, nations, and world would be challenged and threatened. It was also foretold that, as each generation has done before, our people would emulate the resilience of our ancestors to persevere against the challenges to Mother Earth, our way of life, our language, our governance, our families, our communities, and all resources gifted to us to sustain us. The strength of our students, families, and educational supporters reaffirming a commitment in continually facing and overcoming the challenges presented by the national COVID-19 crisis has been nothing short of inspirational.
You are all woven into the legacy of all those who came before and sacrificed to achieve success that benefits our communities altogether. Our people have come a long way in our unified struggle to protect what we love most, and yet we have a long way to go.
As you begin the next phase of your journey, we ask for your reflection on the responsibility each of us have to our communities. You are the present and future leaders that will work in the spirit of coordination and cooperation with one another to ensure the continuance and vitality of our communities. Your families, our communities, our nations, and our future generations need you. Your communities will always need your energy and expertise. They need you to bring home knowledge and skills to effectively address and mitigate the challenges we face. This is an important reminder through times of prosperity, but most important in times of challenge and obstacle.
While our current leaders do all we can to fulfill our sacred trust to ensure the protection and preservation of our way of life for our people—this is not always guaranteed. We need new generations of our communities to continue advancing the sovereignty of our people in every way possible from healthcare, to education, to natural resource protection, to taking care of our elders and youth, and everything in between. You all have already started this journey and we pray for your continued strength, faith, and support of one another. We celebrate you and your families in your continued pursuit of your unique visions and passions. Congratulations Class of 2020!
###
To advocate, foster, protect and encourage the social, cultural, and traditional well-being of our Pueblo Nations. Through our inherent and sovereign rights, we will promote language, health, economic and educational advancement of all Pueblo people.