FOR IMMEDIATE RELEASE
November 2, 2022
Contact: Teran Villa, tvilla@indianpueblo.org
All Pueblo Council of Governors Leadership Meet with New Zealand Diplomats for Historic Introductory Session
(Albuquerque, New Mexico) – Earlier this week, All Pueblo Council of Governors (APCG) Chairman Mark Mitchell – former Governor of Tesuque Pueblo and Vice Chairman Jerome Lucero – former Governor of Zia Pueblo welcomed diplomats from the New Zealand Embassy to Washington D.C. to the Indian Pueblo Cultural Center (IPCC). The hybrid meeting included delegates from the body of APCG including leaders from the Pueblos of Isleta, Laguna, Ohkay Owingeh, and Pojoaque.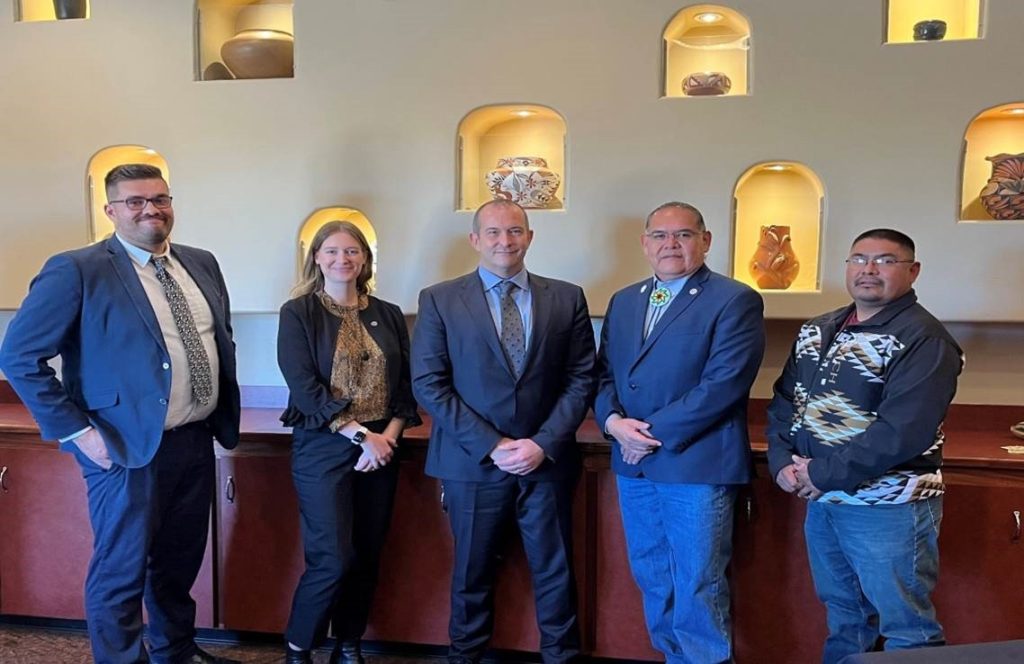 The meeting began with APCG's history, structure, current priorities, and underscoring each Pueblo's own self-determination, the New Zealand delegation shared efforts to create meaningful policy that benefits the Maori people. Other topics that we discussed were climate change, economic development and trade priorities, and understanding how consultation looks between Pueblo Nations and the US federal government.
Chairman Mitchell remarked on the topic of climate change as it disproportionately impacts Pueblo people and our agriculture systems, "it has not been taking place just in the past five years, it has been occurring for well over a hundred years. As humans, we did not try to forecast the effects of our actions so now we are forced to accept the results. Now, we have to come to the table with solutions in order to save the human race" he concluded, "The discussions between APCG and the New Zealand embassy are historic. May it serve as an example for foreign countries to strengthen Indigenous pathways for partnership, built on commitment and policy."
APCG looks forward to continued dialogue and discussions with US. Interior Secretary – Deb Haaland, US Ambassador to New Zealand and Samoa – Tom Udall, the NM Delegation, and representatives of New Zealand's Ministry of Foreign Affairs and Trade to further our collective work to elevate Indigenous peoples.
###