FOR IMMEDIATE RELEASE
December 22, 2022
Contact: Teran Villa, tvilla@indianpueblo.org
Pueblos Celebrate President Biden's Signing of the STOP Act into Law
After many years of illegal theft, justice is now possible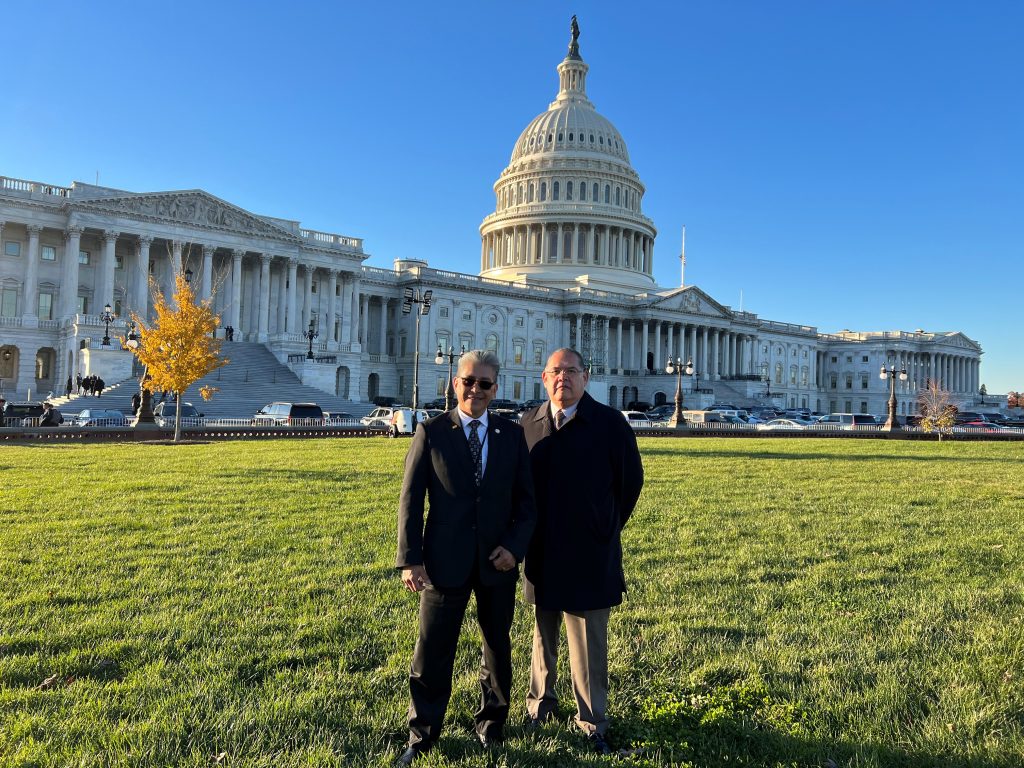 (Albuquerque NM) – Yesterday, President Joseph R. Biden signed the Safeguard Tribal Objects of Patrimony (STOP) Act into federal law. The law will prevent the illegal exportation of tribal cultural heritage items whose trafficking is already prohibited domestically.
The Pueblos have worked with the New Mexico Delegation for many years to strengthen the legal mechanisms necessary to protect cultural resources vital to the preservation of each Pueblo's cultural survival. In fact, All Pueblo Council of Governors (APCG) Resolution No. 2021-08 reaffirmed the Pueblos' efforts to stop the theft and illegal sale of Pueblo cultural items domestically and abroad, detailing the painful history of these human rights violations. The work on the STOP Act, led by the Pueblo of Acoma, is part of a larger effort by the Pueblos to protect languages, cultures, and traditions and the preservation of sacred landscapes, including the Greater Chaco Region and the Caja del Rio. We celebrate the recent reintroduction of the Chaco Cultural Heritage Area Protection Act as part of these efforts. The work we do together to protect our cultural survival will be consequential for future generations of Pueblo people.
We look forward to full and meaningful implementation of the STOP Act, and we will work closely with the Department of the Interior, Department of State, Department of Homeland Security, Indian Country, and others to make sure that happens. We will all have vital roles in its robust implementation. APCG thanks the Pueblo of Acoma for its unwavering leadership in securing enactment of the STOP Act.
Mark Mitchell, Former Governor of the Pueblo of Tesuque and current Chairman of APCG remarked: "The Pueblo Nations and our people live a life deeply committed to fulfilling our sacred trust and obligations to steward this world. Each Pueblo exercises their traditional cultural practices for the preservation of all lands, waters and ecosystems, in perpetuity. For many years, however, tribal objects of patrimony have illegally been removed from each Pueblo and the impact is lasting trauma. It is historic that the STOP Act passed out of Congress and thanks to our New Mexico Congressional champions, the President has inked his signature to make this law. Forevermore, a message will be sent across our nation and to the world that these objects are irreplaceable for all tribes and deserve justice. My appreciation goes to all of Congress and each office for stewarding this legislation. Many blessings to you all."
Former Governor Kurt Riley, Pueblo of Acoma: "The Pueblo of Acoma has firsthand, lived experiences of illegal removal and trafficking of our sacred tribal cultural heritage items. We need these items for our very cultural survival, and their loss hurts us individually and as a people. One example is the Acoma Shield, which was stolen from its Acoma caretaker, taken out of the country, and put on an auction block in Paris, France. During our initial attempts to repatriate the Acoma Shield, the Pueblo realized after seeking help from multiple federal agencies that federal law and international agreements with France and other countries could not help. These past seven years, in working with the support of the New Mexico Congressional Delegation, the Pueblo has achieved the passage of a law that for the first time facilitates the international repatriation of items of tribal cultural patrimony. In helping repatriate these items, the STOP Act allows the Indigenous People of America to strengthen, preserve, protect, and maintain our individual histories, language, culture, ceremony, and religious beliefs for future generations."
Former Governor Brian Vallo, Pueblo of Acoma: "The STOP Act is more than a law, it is deeply meaningful to our community because our sacred items are a part of who we are, and their loss hurts us. The STOP Act weaves together existing domestic laws that protect tribal cultural heritage items with existing international mechanisms that allow countries to request each other's help in returning cultural property. While serving as Acoma Governor, I had the honor of helping design the STOP Act's provisions, drawing from both my personal experiences as an Acoma cultural practitioner and my professional experiences working with museums. We worked closely with many other experts throughout Indian Country, the federal government, and the museum community to further strengthen the legislation. I am grateful to the many people who dedicated their time and expertise to ensure passage of the STOP Act. I also thank the Congress for recognizing the importance of enacting this important legislation on behalf of Native American people." Governor Randall Vicente, Pueblo of Acoma: "The Acoma people celebrate the culmination of our years-long fight for enactment of the STOP Act. We are very proud of Senator Heinrich and Congresswoman Leger Fernandez for their role as lead sponsors and of Senator Lujan and Congresswoman Stansbury for their strong co-sponsorship. Tribal lifeways are threatened by the removal of our sacred items from our communities, and their loss is painful to our very beings. We believe the STOP Act will help keep sacred items at home where they belong, and that it will bring home those items that have already left."